Holidays fast approaching and I pen this blog post filled with gratitude. Karen and I have wrestled with this decision for well over a year and have decided – final, final this time – it's time to pass the baton and move on from owning CrossFit Novato.
Effective January 1, 2020 Coach Michael Crespo will take over and assume all day to day responsibilities at CrossFit Novato Downtown and CrossFit Novato Pacheco Valley.
Karen and I are not going very far. Our Equip offices and training facilities are just across the street. We look forward to sharing more Equip news with you soon.
As many of you know, for much of this past summer, Coach Gilly and Coach Michael together ran CrossFit Novato. This was because Karen and I, forever grateful to Gilly and Cory, envisioned the Boyds and Michael leading/owning the next version of CrossFit Novato. Since then, Gilly and Cory have decided that for business/financial and personal family reasons, owning a gym is not a path they wish to pursue. We respect their decision 100% and will always, always, always cherish their love and loyalty. Gilly's programming vision and execution, mentoring CFN coaches and countless dedicated hours have been a big part of any success we've experienced. Thank you, Coach G and Coach CB.
Over the last several years, Coach Michael Crespo has demonstrated time and time again an incredible work ethic, drive and passion for growing the business and honoring you, the CFN community. Michael represents the true spirit of the Dark Horse. Karen and I are proud seeing Michael step into his life dream. We will support Michael as close friends and business advisors and sincerely look forward to being a part of what he will build next.
Thank You TJ's Gym
The above photos, taken June 28, 2009, feature Coach TJ and Kali and Maddie Boone participating in the first ever TJ's Gym CrossFit Kids cohort. The class took place at TJ's original (San Rafael) CrossFit gym and for me marked knowing one day I would be in the CrossFit business.
I don't recall all the reasons I fell in love with CrossFit. There were many. One big reason was TJ Belger. I loved the dude the first day I met him. I decided many years ago that if there ever came a day I was ready to move on, I would give thanks to the man who helped me step into this world. Thank you, TJ (and Allison) Belger.
Another reason I fell for CrossFit was self-serving. I knew CrossFit would be great for my family and especially our daughters and kids and adults in general. CrossFit as a curriculum still makes so much sense. I'm forever grateful for the healthy lifestyle and behavior changes and habits my family discovered through CrossFit. I believe it is the most effective fitness curriculum on the planet and my plan is to practice CrossFit for a long, long time.

CrossFit Novato Opens January 2010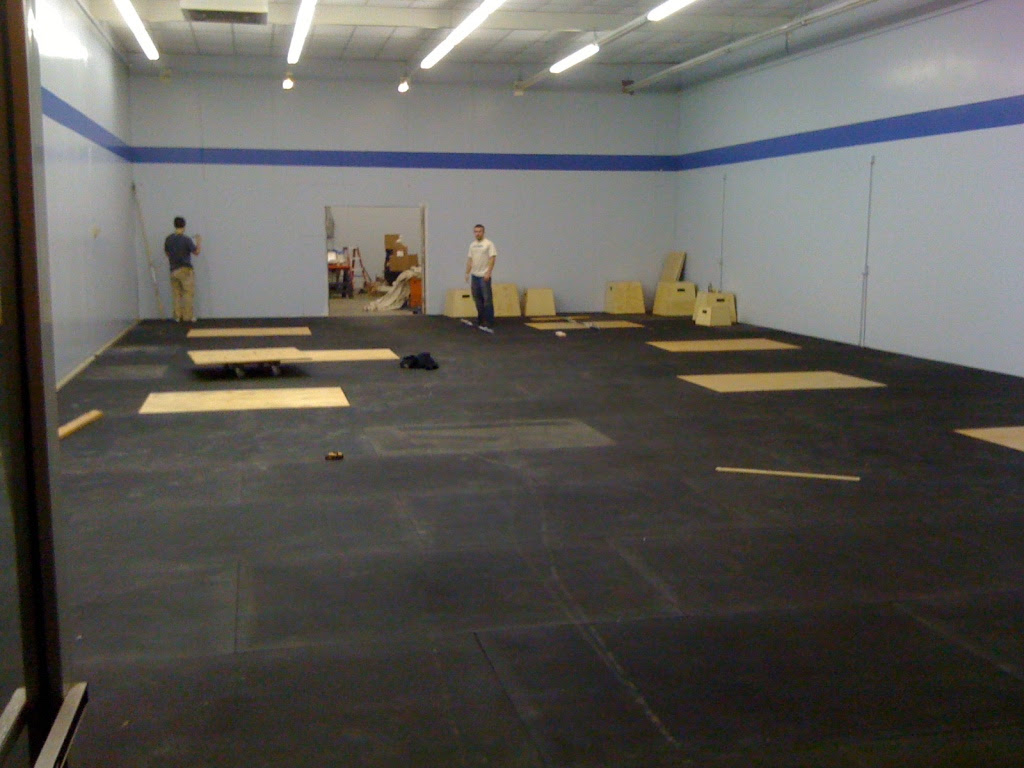 Moving on from TJ's Gym first ever CrossFit Kids class and fast forward to January 2010, check out the above photo featuring the first ever CrossFit Novato class. So many amazing faces and souls including several coaches who launched or led other fitness businesses.
Today a few of those coaches returned right here to their original CrossFit home. Oh, hey. Welcome home.
Also a couple shots of the original construction. And really clean stall mats. And Calen.

Spirit of the Dark Horse
There are all kinds of ways one can lead a business and lead a team and I definitely have my own…style. Of course there are lots of management theories/texts and consultants ready to share management expertise. Taking nothing away from proven management theory and business practice, I've found peace and confidence knowing we humans are naturally creative and resourceful beings. Most of us, myself included, often just need a little help getting out of our own way.
If you work on my team, it's been without a lot of management structure including only requiring a few formal meetings over the years. That breaks all the rules. I hope our coaches have always felt space to show-up, create and work on some version of themselves while helping others.
The same goes for our CFN clients. Unlimited members enjoy unlimited access to our facilities. That's always been important to me. In that way, my gym has always been your gym. There is great power and personal delight in sharing. I'm forever grateful that I was able to share this place with you and will always remember everyone willing to simply…'walk through the door'.
Equip Sports Performance 501(c)3 is our next chapter and the continuation of me living my dream. Whether it's through our Athletic Training programs (I tip my Equip hat to our Training Director, Julie Shep!) or Outdoor programs (hey Brit!) or Education programs (dare I dust off my khakis?) or finding our place with the teen mental health crisis and building a Wellness center (hey Emma-girl!) — Karen, Kali, Maddie and I are moving on to spend more time supporting the Equip Board (Dream Team: Chassman, Moyer, Scheppler, Shepherd and Mesenburg) and intelligent and driven, Katie Stafford and others raising their hands. I can't wait to share more about Equip programs and people. We are just getting started.
I do have a couple asks. One ask is that you stay the course and embrace the next CrossFit Novato chapter. You have an important role helping write this chapter. The other ask is that you commit to showing-up in your life and commit to waking-up to your Health. If current lifestyle and behaviors aren't working, maybe this email serves as a small spark and it's time to ask for help.
This is an awesome, unpredictable ride. You forever have a place in Boone family hearts.  Thank you.
andy@equipsports.org
415-290-2964
By Head Coach Gilly Boyd
The 2020 CrossFit Open has come to a close! We want to sincerely thank everyone that participated, judged, cheered and coached these past 5 weeks. Two Opens in one year (6 months apart!) can be tough, but we were so proud of each and every one of your efforts each week. We witnessed PR lifts, first pistols and toes to bar, and people moving weights they never thought possible to move! The Open is special, but it's the people who do it that make it magic. 
CrossFit Novato would like to honor those clients who excelled week after week and ended on top of the leaderboard. The Rx winner is the athlete who completed (and submitted scores) for all workouts as prescribed and ended up on top. The Scaled winner is the athlete who completed (and submitted) all workouts as scaled and performed the best across all 5 workouts. 
On the Women's side, Karen Glass attacked each workout as prescribed and ended up with stellar (and often winning!) performances. Karen, Congrats! You are our Female Rx Open Champion! For the Scaled Division, Kayda Cook came out on top with all workouts completed scaled. Fantastic job, Kayda! You are our Women's Scaled Open Champion for 2020! 
On the Rx Men's side of the competition, Mike Cattaneo and Andrew Albert went toe to toe week to week, with each winning a couple of workouts. In the end, Andrew Albert came out on top by only TWO POINTS! So close, guys! Congrats to Andrew Albert, our 2020 CrossFit Open Rx Champion. On the scaled side, Alex Young is our winner! He showed up week after week, left it all on the floor, submitted all his scores (dudes, you guys all had a lot of missed submissions 🙂 and came out on top of our scaled leaderboard. Congrats, Alex! 
Andrew, Alex, Karen, and Kayda, you will all be receiving a special edition "2020 CrossFit Open Champion" CrossFit Novato shirts. Congratulations! 
Now that The Open is over, it is time to get back to our regularly scheduled programming. I bet a lot of you are wondering, "what now?". Well, we have lots of cool changes on board for you to maximize your fitness experience. Take a look below! 
1). 3 Longer-Time Domain Workouts a Week With No Strength Work
We are going to continue to have 3 workouts per week (out of 6) that are longer time domains and that do not contain any strength work upfront. One of these days will continue to be Saturday every week, just like it has been. The other two longer time domain days will be on weekdays and will rotate each week. This means they won't be on the same day week to week, so everyone is exposed to the longer time domain workouts regardless of what days of the week they attend classes. One of those two days will be more endurance-focused, with little to no weights. This day is meant to be a little bit of a recovery day, but that doesn't mean it won't be tiring! The other day will be a longer time domain CrossFit workout which will include plenty of gymnastics, weights, and cardio. Just like Saturdays! 
2). 2 Days of Focused Strength Work-
The weeks following the CrossFit Open are a fantastic time to either build up your base strength by focusing on accessory work or to focus on increasing the strength of your big lifts. With our new style of programming on two of the strength days, you will be able to choose what YOU want to focus on! For the next 12 weeks, we will be concentrating on squatting strength (with either the back squat or the front squat, your choice), and pressing strength with the bench press. We will progress these big lifts in a linear fashion, adding 5-10lbs to your working weight each week with reps decreasing every 4 weeks. Therefore, it is super important that you enter your weights used in SugarWod to keep track of them week to week! de-load weeks will also be included about every 4 weeks to aid in your gains. 
At the end of 12 weeks, we will have a testing week where you can either test a 5RM, a 3RM or a 1RM depending on how comfortable you are with big weight.  Most of this is similar to what we have done in the past, but here is the new change: 
The two strength days will have a new format, with accessory work, the main lift, and then a short conditioning piece. For example, it will look something like this: 
3 Sets: 
  A1 or B1. Goblet Curtsy Lunges x 10 alternating 
Rest: 30 
A1 or B2. Staggered-Stance DB RDL x 6 per leg
Rest 1:30 
A or B. Back Squat or Front Squat-
      3 sets of 5 reps, across 
[add +10lbs/+5lbs to last week's weight]
C

.

Conditioning: 
7 min AMRAP: 
7 Burpee Box Jumps (24/20)
14 Slamballs (50/30)
The important thing to notice about the above programming is that the first two parts of the strength work are interchangeable. Meaning, you can either do the accessory work first or you can do the big lift first! No matter what, the conditioning will be last. So, how do you know which order to do it in? That is going to depend on your goals! 
Accessories first:

If you are really focused on increasing the strength of your big lifts, you will want to do the accessories first and treat them as a warmup/primer for the big lifts. Keep the movements light and focus on form. Don't push it on the accessories! Once you are doing with the accessories, you will move on to your big lift, where you will spend most of your time during class. Take a good amount of time to get to your warmup weight, and then hit the 3×5 hard (although it should be on the moderate to lighter side in the first two weeks or so). 
Big lift first:

If you are someone that wants to focus on rebuilding/rehabbing an injury or just interested in staying strong and healthy, you will want to do the big lift first and keep it nice and light to moderate, don't go heavy. Focus on mobility and quality of movement. Then, after you get the big lift done, you will move on to the accessory work where you can really make them hard. Don't be afraid to increase the load on the accessories. 
Your coaches will be happy to help you figure out which training style is best for you and your goals. Don't hesitate to ask! Our hope is that you appreciate and enjoy more flexibility to choose how you spend your time AND that time spent lines up with your individual goals! 🙂 
3). Third Strength Day- 
The third strength day each week will be similar to the strength days of the past. It will include a strength component that will rotate week to week in terms of focus: Olympic lifting, Gymnastic Strength and Core Strength. The metcon will be a moderate time domain workout, approximately 15 min in length. This day will complement the strength work done on the other two days. 
4). DarkHorse Bodybuilding Programming-
Unlimited members will now have even more additional programming to choose from! In SugarWod, if you click the DarkHorse workout track, you will now find 6 days a week of programming. Here is what you will find each day of the week: 
Monday- Upper Body Day
  Tuesday- Core/Glutes Day 
Wednesday- DarkHorse Strength Class Programming (Olympic lifting/Powerlifting)
Thursday- Lower Body Day 
Friday- Gymnastic Skills Development Day
Saturday- DarkHorse Strength Class Programming (Powerlifting/Strongman)
How do I use this extra programming? The important thing to remember is that the extra bodybuilding programming can be done any day of the week! For example, you get done with your regular class programming which included a longer, endurance-style workout and you decide you have an extra 30 minutes after class to get some lifting in. Since the workout was more leg-heavy, you decide you want some upper bodywork. So you click on the Darkhorse track in SugarWod and then go to Monday where you will find the Upper Body Bodybuilding programming, and then you get it done! 
Are you interested in developing your gymnastic skills? Make sure to get the Friday gymnastic skills programming done at some point during your week. 
Are you trying to change your body composition? Add in the upper body, lower body and core/glutes programming at the end of your workouts each week. But remember, adding more work doesn't equal results if you aren't also investing in your RECOVERY! That means taking rest days, eating towards your goals, reducing your stress and sleeping more. If you need more help navigating this, don't hesitate to reach out to a coach. 
CrossFit Novato is excited to roll out these programming changes and see everyone work towards their individual goals. We welcome any feedback or comments, so please reach out!
The end of the 2020 CrossFit Open is upon us! With workout 20.4 we finally saw a heavy barbell! Strength athletes rejoice! However, we know that Dave Castro always has something up his sleeve, and this week you had to earn your way to the heavy weights with box jumps and pistols. Some athletes chose to do step-ups instead of box jumps, some athletes jumped the whole way to save their legs for the pistols, and still, others mixed the two.
On the lady's side of the competition, our female coaches dominated this workout with Coach Emily leading the way. She did all 90 pistols and even got to clean the 205lb barbell! So strong, Coach! Our top RX client performance was Krystal Whitaker with 204 reps (that's 4 clean and jerks at the 145lb bar). So strong! For the scaled version, Carrie Maszk crushed with a score of a whopping 232 reps (only 3 reps shy from finishing the final set of medball step-ups). Great work, Ladies!
On the men's side, Mike Cattaneo once again finished on top of all other men, including our coaches! He had the same score as Coach Radz (200 reps) but edged him out by just 7 SECONDS to secure his first place. Great work to both of you! On the scaled side, Jeremy Altman dominated with a score of 201 reps (that's one clean and jerk at the 155lb barbell!) edging out Coach Cory Boyd by only one rep! The scores sure were tight on the men's side.
Krystal, Carrie, Mike and Jeremy, CrossFit Novato would be honored to award your efforts with your gear or supplement of your choosing up to a $10 value. Check-in with Coach Gilly next time you see her to claim your prize!
The final week of the CrossFit Open brought us a style of workout we've never seen before in the Open (but we see often in our programming;): the partition any way! The workout includes 40 Ring Muscle-Ups or Pullups, 80 Row Calories, and 120 Wallballs. Tune in to the recap next weekend to find out who ended the Open season on top and won the very special overall prize!
Clip-Clop!
Good morning! Here's your Friday Update News for the week ending 11/08/19.
Health News
I know people who with a big smile would choose sugary cereal over ice cream. Yum, yum! Check out this approximate $30 million lawsuit settlement that will force Kellogg to change its marketing. It's a sugary cereals lawsuit.
Nutrition
Are we still debating whether or not a calorie is just a calorie? Do people still believe that the quality of a calorie – the source of the fuel – does not matter? Specifically, and as an example, I'm very curious about the role of fructose and understanding what is too much fructose and the accumulation of fat in the liver and ultimately the connection of fructose to heart disease and other health conditions.
Fructose is found naturally in fruits and honey, but in processed foods and sodas it's been extracted from corn, beets, or sugarcane and that means it's lost fiber and nutrients, and it's boom…concentrated. But is all fructose the same? Nearly all added sugars including "organic cane sugar" contain significant fructose and table sugar is 50 percent fructose (1).
As far as fructose consumption and the connection to heart disease, my understanding is that because fructose is directly metabolized by the liver, it has the potential to increase the liver's fat burden. This has the potential to increase lipoprotein production and can ultimately produce a lipid profile with those nasty atherogenic small, dense LDL particles. When I finally saw a physician who was able to order more comprehensive blood panels, I discovered that my lipid profile and specifically LDL small particles (and other metabolic markers) were not as I expected. Was the amount of fructose I consumed – all those sugary margaritas – part of the problem?
Is the amount of fructose you consume even on your radar? What about the amount of fructose your kids consume? What about more comprehensive blood tests and knowing your LDL particle count numbers? What about uric acid numbers? Uric what?!
Is anyone just a bit curious?
Mindset
1) This dude's mindset is on another level. If your curious about mental toughness, grit, determination and what it takes to make it in the Special Forces, I highly recommend the read.
2) Speaking of mindset, this Michael Pollan book blew my mind.
Movement
The road to getting healthy and ultimately becoming a better mover. What's your physical path? How are you supporting and addressing your mobility and flexibility, beyond taking classes? Recently I started working with the GoWod app. I really like this tool.
Recovery
Best sleep tracker on the market and has changed the way I think and feel about the most important recovery practice. I'll share with you that if I eat too close to bed time – and especially a protein heavy meal – my sleep quality plummets. The Oura data has allowed me to adjust lifestyle and behaviors – most of the time – accordingly.
(1) UCSF Mag, 12/26/18. Anne Kavanagh. Sugar's Sick Secrets: How Industry Forces Have Manipulated Science to Downplay the Harm
Three down, two to go! Week 3 of the 2020 CrossFit Open saw a short and heavy workout, pairing deadlifts with Handstand Push-ups and Handstand walks. This workout tested both your ability to move load quickly and your gymnastic strength and stamina. The standard on the Handstand Pushups was very tough, causing a lot of frustration for many athletes. It was impressive for anyone to make it to the handstand walks! 
On the men's RX side of the competition, Mike Cattaneo came out on top again with a score of 112 reps by the 9min timecap (that 1 rep into the handstand walking!). He was the only male to make it to that skill. For Men's Scaled, Errol Tremolada dominated by finishing the entire workout in 7:24, only 8 seconds faster than second place Mike Yasin! So close! Great work Errol!
For the Rx category on the women's side, Coach Kelly Morlock dominated with a score of 122 reps….that is all the way through the first round of 50ft handstand walks plus 1 deadlift! So impressive! Our top client score was Karen Glass, who did an amazing 8 handstand pushups with that hard standard. Congrats, Karen! On the scaled version, Krystal Whitaker absolutely destroyed the workout with a time of 6:05. SO FAST! 
Mike, Errol, Karen and Krystal congrats on a fantastic week of competition. We are honored to award you with a prize of your choice valued at $10. Check in with Gilly next time you see her to choose your prize. 
Week 4 of the CrossFit Open brings back a heavy barbell and a long time domain, along with a new movement for The Open: The Pistol. You have to earn your way to that challenge by making your way through 90 box jumps and 40 clean and jerks of increasing load. Will you make it through the pistols and on to the heaviest bar? The women's RX weight ends at 205lbs and the men's at 315lbs. This Olympic Lifting Coach can't wait to see you all lift some big weight! 
Clip-Clop! Home Stretch!
Good evening! Here's your copy of the FUN for this week ending 11/01/19.
News
The "Keto" craze is everywhere and seems to be fueled mostly by people interested in weight loss. I am interested this growing body of work which looks at nutritional and supplemental ketosis for neuroprotective and even performance-enhancing effects. 

Nutrition
Check out this video – "The Role of Nutrition in Everything".
Mindset
Check out this article about the relationship between your breath and your brain.
Movement
Did you know these muscles help you breathe and move?
Recovery
Just listened to a recent and very interesting OPEX podcast With PhD Exercise Physiologist, Mike T Nelson.
Videos mentioned: Impact of Cannabis / CBD on Exercise Recovery / Adaptation
Movies mentioned: Concussion
Check out Dr. Mike T Nelson's website here.