2020 Brings Next Chapter to Connected Fitness Novato
Holidays fast approaching and I pen this blog post filled with gratitude. Karen and I have wrestled with this decision for well over a year and have decided – final, final this time – it's time to pass the baton and move on from owning Connected Fitness Novato.
Effective January 1, 2020 Coach Michael Crespo will take over and assume all day to day responsibilities at Connected Fitness Novato Downtown and Connected Fitness Novato Pacheco Valley.
Karen and I are not going very far. Our Equip offices and training facilities are just across the street. We look forward to sharing more Equip news with you soon.
As many of you know, for much of this past summer, Coach Gilly and Coach Michael together ran Connected Fitness Novato. This was because Karen and I, forever grateful to Gilly and Cory, envisioned the Boyds and Michael leading/owning the next version of Connected Fitness Novato. Since then, Gilly and Cory have decided that for business/financial and personal family reasons, owning a gym is not a path they wish to pursue. We respect their decision 100% and will always, always, always cherish their love and loyalty. Gilly's programming vision and execution, mentoring CFN coaches and countless dedicated hours have been a big part of any success we've experienced. Thank you, Coach G and Coach CB.
Over the last several years, Coach Michael Crespo has demonstrated time and time again an incredible work ethic, drive and passion for growing the business and honoring you, the CFN community. Michael represents the true spirit of the Dark Horse. Karen and I are proud seeing Michael step into his life dream. We will support Michael as close friends and business advisors and sincerely look forward to being a part of what he will build next.
Thank You TJ's Gym
The above photos, taken June 28, 2009, feature Coach TJ and Kali and Maddie Boone participating in the first ever TJ's Gym Connected Fitness Kids cohort. The class took place at TJ's original (San Rafael) Connected Fitness gym and for me marked knowing one day I would be in the Connected Fitness business.
I don't recall all the reasons I fell in love with Connected Fitness Novato. There were many. One big reason was TJ Belger. I loved the dude the first day I met him. I decided many years ago that if there ever came a day I was ready to move on, I would give thanks to the man who helped me step into this world. Thank you, TJ (and Allison) Belger.
Another reason I fell for Connected Fitness was self-serving. I knew Connected Fitness Novato would be great for my family and especially our daughters and kids and adults in general. Connected Fitness as a curriculum still makes so much sense. I'm forever grateful for the healthy lifestyle and behavior changes and habits my family discovered through Connected Fitness Novato. I believe it is the most effective fitness curriculum on the planet and my plan is to practice Connected Fitness for a long, long time.

Connected Fitness Novato Opens January 2010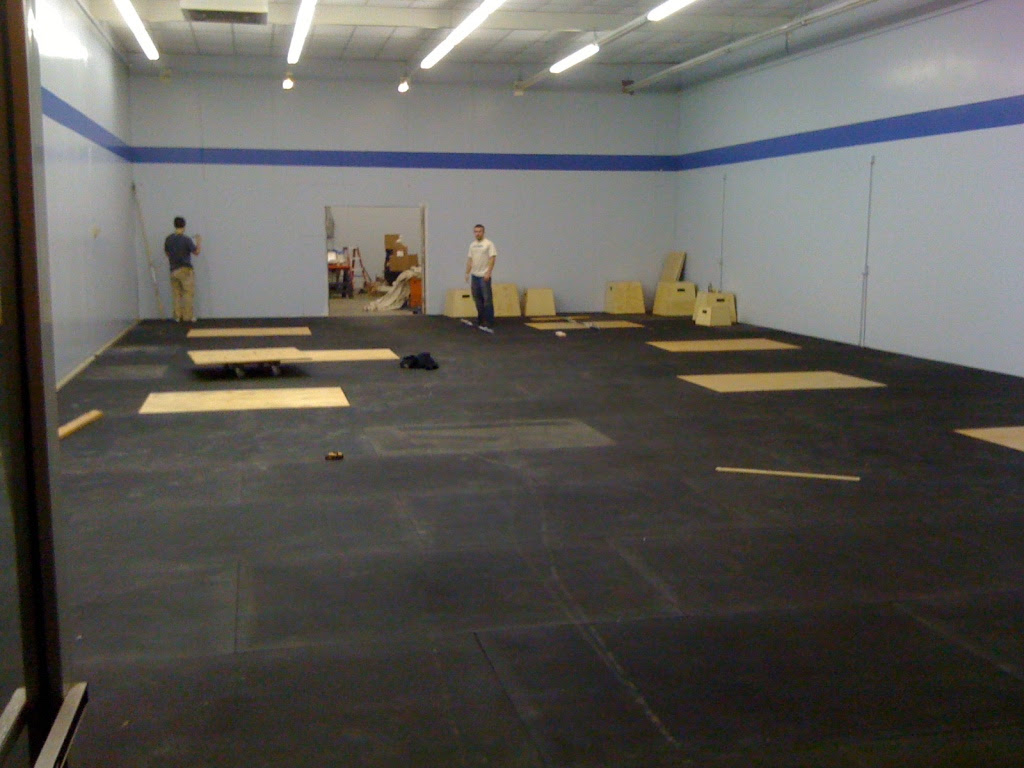 Moving on from TJ's Gym first ever Connected Fitness Kids class and fast forward to January 2010, check out the above photo featuring the first ever Connected Fitness Novato class. So many amazing faces and souls including several coaches who launched or led other fitness businesses.
Today a few of those coaches returned right here to their original Connected Fitness home. Oh, hey. Welcome home.
Also a couple shots of the original construction. And really clean stall mats. And Calen.

Spirit of the Dark Horse
There are all kinds of ways one can lead a business and lead a team and I definitely have my own…style. Of course there are lots of management theories/texts and consultants ready to share management expertise. Taking nothing away from proven management theory and business practice, I've found peace and confidence knowing we humans are naturally creative and resourceful beings. Most of us, myself included, often just need a little help getting out of our own way.
If you work on my team, it's been without a lot of management structure including only requiring a few formal meetings over the years. That breaks all the rules. I hope our coaches have always felt space to show-up, create and work on some version of themselves while helping others.
The same goes for our CFN clients. Unlimited members enjoy unlimited access to our facilities. That's always been important to me. In that way, my gym has always been your gym. There is great power and personal delight in sharing. I'm forever grateful that I was able to share this place with you and will always remember everyone willing to simply…'walk through the door'.
Equip Sports Performance 501(c)3 is our next chapter and the continuation of me living my dream. Whether it's through our Athletic Training programs (I tip my Equip hat to our Training Director, Julie Shep!) or Outdoor programs (hey Brit!) or Education programs (dare I dust off my khakis?) or finding our place with the teen mental health crisis and building a Wellness center (hey Emma-girl!) — Karen, Kali, Maddie and I are moving on to spend more time supporting the Equip Board (Dream Team: Chassman, Moyer, Scheppler, Shepherd and Mesenburg) and intelligent and driven, Katie Stafford and others raising their hands. I can't wait to share more about Equip programs and people. We are just getting started.
I do have a couple asks. One ask is that you stay the course and embrace the next Connected Fitness Novato chapter. You have an important role helping write this chapter. The other ask is that you commit to showing-up in your life and commit to waking-up to your Health. If current lifestyle and behaviors aren't working, maybe this email serves as a small spark and it's time to ask for help.
This is an awesome, unpredictable ride. You forever have a place in Boone family hearts.  Thank you.
andy@equipsports.org
415-290-2964